Indicator Guide and FAQ
Signals
---
Buy - Indicates an entry for a long position.

Sell - Inidicates an entry for a short position.

Strong (green) - Indicates an entry for a long position with a theoretically higher probability for uptrend continuation.

Strong (red) - Indicates an entry for a short position with a theoretically higher probability for uptrend continuation.


---
Candle Colors
---
Yellow - Expected volatiltiy soon
White - Trend may be about to change. Use caution and consider taking profits.

Purple - High volume
---
What do I need?
---
All you need is a free TradingView account and a Barafu Trading membership BUT you can try it out for 7 days with our free 7 day trial.
---
Is it only for stocks?
---
Nope! The wave algo indicator works on Crypto, Forex, Futures, you name it.
---
What timeframe should I use?
---
The indicator works on any time frame so it really depends on your style of trading. Using a higher timeframe, such as the 1-hour chart, reduces a lot of noise and can be useful for short term swings.
---
How accurate is it?
---
Historical accuracy would depend on the underlying security (stock, pair, coin, etc.) and the timeframe used.

Try it out for free and see for yourself!
---
Will it trade for me?
---
No, this is simply a tool to use in your own trading and it also should not be the sole tool you use in deciding whether or not to take a trade. The best tool is in between your ears.

That said, there are additional third-party services and integrations in which you could set up an automated trading system using this indicator.
---
Indicator Settings
---
To adjust the settings, click on the gear icon in the indicator pane.
Sensitivity - higher sensitivity signals breakouts earlier, but produces more signals. Lower sensitivity signals breakouts later and better avoids false breakouts.

Trendlines - Uncheck the box to hide trendlines. Adjust the trendline strength to determine how many bars should be used to determine a trendline.

Use Heiken Ashi - If this box is checked, the signal script will use Heiken Ashi candles, regardless of the candles on your chart. Heiken Ashi candles produce smoother data and helps to avoid choppy market signals, but you may want to use standard candles to better understand price action.
---
Installation
---
To add the indicator (once you've been granted access and permitting you have a tradingview account (free)), on any advanced chart, click on 'Indicators' and then 'Invite-Only Scripts).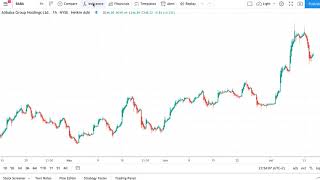 ---
Setting alerts
---
Want to be alerted on buy and sell signals? TradingView lets you do just that.

For more information, head to TradingView
---
---